How to do it: you can do the trip yourself. Otherwise, shuttles run daily from Puerto Viejo to Bocas del Torro and, of course, run the same route in reverse. I use Hello Panama! Travel. The cost is around one way and includes hotel pick up in Puerto Viejo, help at the border, onwards to the port in Almirante and the boat to Bocas del Torro. From there you can typically walk to your accommodation if you're staying in Bocas town.
Want to keep up to date when I post new guides? You can sign up to my newsletter here.
Not an expert surfer but want to be? (Or at least want to give it a go), you're in one of the best spots in the world to take surf lessons. You can either find something online or, for a lower price, find a local surf instructor when you turn up – there are plenty of leaflets up in cafes and bars advertising classes. And don't worry, there are plenty of gentler surf spots good for beginners so you don't need to lose the skin of your shin.
The first time I visited Puerto Viejo, over a decade ago, the bus has to stop while a sloth slowly crossed the road. It was that kind of place. Where life (and the small amount of traffic) slowed down and nature came into its own. A string of beaches make up the region on the Caribbean coast of Costa Rica and the vibe couldn't be more different than the rest of the country.
Guide to Puerto Viejo de Talamanca
Best Things To Do in Puerto Viejo
Explore the beaches along the coast
There are lots of sloth related things to shop for but thought you'd prefer a picture of a puddle of sloths
Playa Arecife
Playa Chiquita
Playa Cocles
Playa Grande
Playa Manzanillo
Playa Negra
Playa Punta Uva
One of the first thing you'll notice in Puerto Viejo is the beach and, I'm not going to lie, it's not the stunning – certainly not compared to many of the other beaches in Costa Rica. You will see dedicated beach goers lazing on the small swatch of partially rocky sand. Your better bet is to rent a car or bike (or take the bus) along the coast line. Some of the nearby beaches to check out are:
Surf the salsa brava (if you dare)
Did I mention I can be a sloth? So, I may not have found time to go snorkelling but I most certainly did find time to sit on the black sand beach and enjoy an ice cream watching the waves roll in. There is a swatch of beach near the entrance to Cahuita National Park and, of course, throughout the park, but a 5 minute stroll away you'll find Playa Negra which is one of the most beautiful black sand beaches in Costa Rica. Best of all, it's wonderfully uncrowded. This is one of the most peaceful activities in Cahuita.
Take surf lessons
If you're looking for alternative hotels, rentals and rooms in Puerto Viejo, you can find them on Booking.com here.
Visit the Jaguar rescue centre

Cabinas Palmer Makanda: A friend recommended this place to me and I'd definitely recommend it for location as well as the ultra-friendly family who run the place. They do have dorms but the rooms were very cramped and hot. I stayed in a private room and, although basic, it was clean and had a lovely terrace complete with hammock.
Pagalu Hostel – this is where I stayed on my most recent trip. Whether you go for a dorm or a private room, I highly recommend this place. The beds are solid wood, the hostel is clean, there's a great kitchen and common area with hammocks.
Party with the Reggage crowd
If you're looking for alternative hotels, rentals and rooms in Cahuita, you can find them on Booking.com here.

Johnny's Place
Salsa Brava Rasta Bar
The Lazy Mon
Hot Rocks
You can find all of my Central America posts here
Cross the border in Bocas del Torro in Panama
Isla De Ometepe: My Barefoot Volcano Hike
15 Long Haul Flight Essentials: What to Take Onboard
Food leans more towards the traditional soda in Cahuita but I was intrigued to try at least one international restaurant and one of the 'fancy' coffee shops that had popped up. I was impressed on both counts. Dining in Cahuita definitely had a more relaxed mood about it though most of the places were full most nights so go early if you see a place you especially want to try. Here are the places I enjoyed during my stay in Cahuita.
Shop for all things artisanal

It's worth saying that it's easily possible to visit Cahuita as a day trip from Puerto Viejo. I wanted a change of scene and had spoken to people who raved about the laidback vibe in Cahuita and I fancied giving it a try. If you're on a short trip it's only 20 mins away by car, 30 by bus from Puerto Viejo so just go for the day.
20 Best Things To Do In Monteverde
Dine out in the local sodas
Puerto Viejo is changing fast but it's lovely to see the sodas (local restaurants) still doing a roaring trade. It's no surprise – the protein (meat or fish), rice, bean, plantain, salad combo is simple, budget friendly and usually the best food you can get. There's a lot of fish and seafood to be had in this coastal spot (no surprise). There are veggie options also available – the same plate but with a nice serving of veggies instead of the protein. Here are some of my favourite sodas which I tried:
Tamara – a great soda I simply liked the look of and wasn't disappointed.
Soda Mirna – I had a wonderful local plate of shrimp, rice and salad.
Soda Tayito – another good local eatery.
Soda Lidia – to be honest, I went because this place got rave reviews. Personally, I didn't think it was as good as some of the other places I ate and the reviews have pushed the prices up. But still, decent food.
Taste the local coffee and chocolate
In just four hours you can be out of Puerto Viejo, across the Panama border, on a small boat and landed on the island of Bocas del Torro. While I wouldn't recommend it for a day trip, if you want to explore a bit beyond Costa Rica or if you're on a longer trip, Puerto Viejo and Bocas del Torro go hand in hand on any Central American itinerary. If you're beach hopping, it's ideal.
De Gustibus Bakery – my favourite of all the many cafes I tried.
Bread & Chocolate – excellent cakes and coffee.
Deelite – great for acai bowls and ice creams.
Where to stay in Puerto Viejo
What is Bocas del Torro? Collectively it's an archipelago of islands off the coast of Panama. It is also the name of one of the main islands within the archipelago – you can explore further from there (Isla Bastimentos is one of my favourites), or you can stay put and experience a slice of Panamanian Caribbean paradise.
12 Quick Things To Do In San Jose
Otherwise, just turn your ear to the air and follow the music.
Guide to Cahuita Costa Rica

Capuchin monkey seen in Cahuita National Park
Best Things To Do in Cahuita
Go wildlife spotting in Cahuita National Park
In this guide I'll give you the highlights of the best things to do in Puerto Viejo. And since I also spent a few night in nearby Cahuita, I've included a list of things to do in Cahuita, too.
Walk the trails in Cahuita National Park

I'm not much of a shopper, unless we're talking food, but the shops and stalls in Puerto Viejo were just too cute and crammed with artisanal crafts that even I couldn't resist. My tip would be don't buy everything you need before your trip, especially things like beach sarongs and dresses – leave space for a few extra purchases.
Go snorkelling or shipwreck diving
The good news is with so many different types of beach (white sand, black sand, good for surfing, good for kayaking etc), you can pick the kind of beach you want. This is definitely one of the best things to do in Puerto Viejo.
Chill out on the black sand beaches
Enjoyed the laid back life
The Only Packing List You'll Ever Need (with printable checklist)
Explore the local restaurants
Here are some of the most popular bars to check out:
El Rinco del Amor – a soda, and the best (local) food I had in Cahuita.
Cocorico Pizzeria – a pretty decent pizza (accepting you're in Costa Rica not Italy)
Aroma Coffee Bar & Restaurant – this is the spot for good coffee, breakfasts and lunches.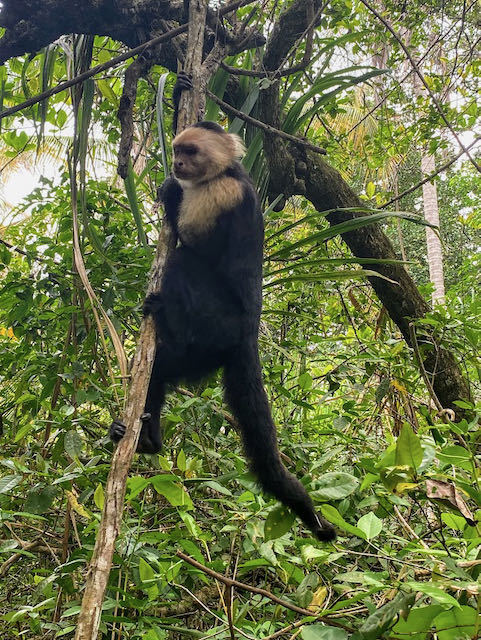 If you are looking for a dorm bed, you can find hostels in Cahuita on Hostelworld here.
Where to stay in Cahuita
It's very likely that, like me, you'll fall in love with this little slice of Caribbean paradise.
Cahuita feels like one of those towns that's on the brink of becoming a tourist hotspot. Amongst the sodas (local eateries), swanky cafes selling fresh juices and lattes and gourmet eateries have started to pop up. It feels inevitable that tourism will push out of Puerto Viejo and expand into this neighbouring coastal spot. Yet the feeling is still overwhelmingly that of a small, laid-back town. For now. I was glad I stayed for a few nights. And I'd definitely suggest visiting sooner rather than later if you're looking for a spot to stop and relax.
This was by far one of the best things I did in Costa Rica, let alone Puerto Viejo. The Jaguar rescue centre is a place where rescued animals are rehabilitated before returning to the wild. You can take a half day tour of the centre where you'll get to see sloths (adults and babies), monkeys, reptiles, spiders, exotic birds and other animals. Be aware – there are no jaguars at the centre but that doesn't make the experience any less wonderful.
Travel Insurance: Don't get Screwed by the Small Print
More of My Central America Blog Posts
From Semuc Champey to Flores by Chicken Bus
Guide To Tortuguero National Park Costa Rica
And South America here if you're on a longer trip
Rockin J's – this is the hostel I stayed at during my first visit to Puerto Viejo over 10 years ago and it's not changed much. If you're backpacking and want the 'original' Puerto Viejo vibe, stay in one of the hammocks here. There are tents and dorms also available. Be warned, it's a bit of a party place and can be a bit…grungy…but there are lots of lovely free-spirited folk to have a deep and meaningful with.
How NOT To Visit Semuc Champey
So, that's my guide to Puerto Viejo and Cahuita. if you've got any questions or suggestions, let me know in the comments below.
I've been on a surf board precisely once (in Costa Rica) so I'm hardly an expert but you don't need to be to know that the reefbreak in this part of Costa Rica is legendary. Called salsa brava to describe the torn up flesh you're facing if you topple off your board on these waves, the salsa brava surf is definitely for the experienced surfer only. If that's you, you're definitely going to want to grab a board and head out – for surfers this is one of the top activities in Puerto Viejo. If that's not you, it's a great spectator sport. You can find out more about the salsa brava and the best surf spots here.
10 Essential Things To Do In Manuel Antonio
101 Tips for Cheap Flights

Blog posts to help you plan (and pack for) your trip
I didn't have time to do any snorkelling (and I'm not able to dive due to ear issues) but this is a popular thing to do in Cahuita. And I imagine it's an enjoyable activity because there will be far fewer crowds in Cahuita than elsewhere. If you have been snorkelling or diving here, leave a comment and let me (other readers) know if you have any recommendations.
Wondering what to do in Puerto Viejo at night? Upscale cafes and restaurants might be edging their way into Puerto Viejo but the Reggae vibe holds strong. If this is the reason you're in Puerto Viejo, to cut loose and party all night long, there are plenty of bars to help you do just that.
Visiting more recently, there was definitely more development, more traffic and fewer sloths but as a tourist destination, Puerto Viejo has grown up, acquired a sophisticated side, and somehow this seems to rub up reasonably nicely against the small fishing village's original hippy, reggae side.
By far the best thing to do in Cahuita is visit the national park. What beautiful about it is the beach-front trails. Every now and then you pop out of the park onto wild beach like the one above. After weeks in Costa Rica, I approached the park more as a trail to walk than wildlife spotting, and I didn't take a guide for that reason. I definitely saw guides in deep 'point and look' poses with their customers so there is an abundance of wildlife to be seen. Even without a guide I saw some capuchin monkeys and some black furry animals with long tails that I wasn't able to identify (yes, a guide would have helped).